We all know that buying for your patio can be hard so here at Abba Patio we came up with a list of our summer favorites that are on sale now!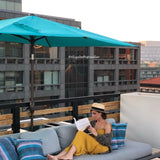 First let's go over our 6.5 by 10 ft Rectangular Market Umbrella. This umbrella will add a great amount of shade while also being stylish and modern for your patio. With the option to tilt the umbrella you will always be able to get the perfect amount of shade no matter where the sun is.
Next is our 10 Feet Offset Cantilever Umbrella Outdoor Hanging Patio Umbrella.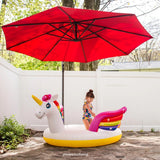 This umbrella adds some serious style with its hanging design and is perfect for covering a table, or play area for you and your children. Coming in this beautiful bright red or a calm clean Ivory you will definitely have a show off area for when you have guests.
Our last favorite is our 10 x 20 Feet Light Portable Carport Canopy with 6 Steel Legs. This carport is great to take up some room on your patio or driveway to provide able shade and protection from the elements. Use it to cover a large area for outdoor fun or for your car so it's not sitting in the hot summer sun.
All the items are up for grabs but act soon before they are gone!