So you need some furniture for your patio. Look no further! Abba Patio has great pieces that add to any decor.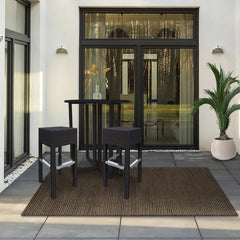 Abba Patio has bar stools that have a similar design to match the Chair and Ottoman set. Give your patio a cohesive feel and make it perfect for company. With the same durability to the elements and modern design these bar stools are great for adding extra seating without taking up to much space.
Need more table space? Abba Patio's end table will give your guest somewhere to place their items or any decor you can think of. Made of recycled plastic and made to last throughout all kinds of weather this end table will be a great addition to any patio
All these items are a dark color to add to your patio in a great way. Let us see how they look on your patio!