Summer is only weeks away. Have you had time to amp up your backyard setting? Don't worry there is always time to get everything you wanted together.
Just in time for summer Abba Patio presents 10 x 6.7 ft Heavy Duty Detachable Fence. This is perfect for your pets during those extra hot days. Set up the fencing area on top of grass and attach your canopy top. Your furry friend will thank you for all the shade.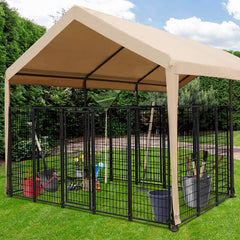 Our newest addition has three ways to connect the fence to the canopy. A 10 x 20 ft carport/canopy would easily fit on top. (Carport/Canopy is not included) After you are doing using it, the fence easily folds up and can be stored easily.
The pet cage is a great new addition to your backyard, whether it is for your pets or simply a place to store your outdoor equipment. The 3 gates make entry and exit easy and effortless.  This would be perfect for those days when you have company over and your pets need a place to lay down away from your guests.
When picking out your Detachable Fence be sure to grab the appropriate carport so your fence can have proper shade. Enjoy the easy set up process and your newest outdoor addition.