It's patio season again, the time to have your backyard get away amped up with the best vacation features. The only downside is when mother nature comes in with high powered wind and rain. A big question we get asked is how to keep your umbrella from falling over during these situations. Here are a couple of tips in order to help you.
1. Keep Your Umbrella Closed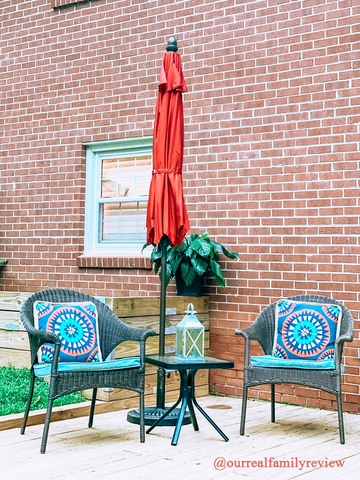 Sure it sounds silly but keeping your umbrella closed during these inclement weather conditions will keep it structurally sound and prevent airflow underneath the umbrella which would in turn topple the umbrella over. The wind will not be able to tear, break or blow over your umbrella and potentially damage its overall structure.
2. Picking the Proper Base
This is essential, you need to make sure that you are choosing a proper base, based off of the type, size and weight of your current umbrella. Some umbrellas are able to go into your table while others will need a stand alone base that can comfortably sit underneath your table or alongside it. Picking the right base will ensure that your umbrella will fit snug and not twist and turn under pressure. On the Abba Patio website most of our umbrellas show a recommended base with the product for your convenience.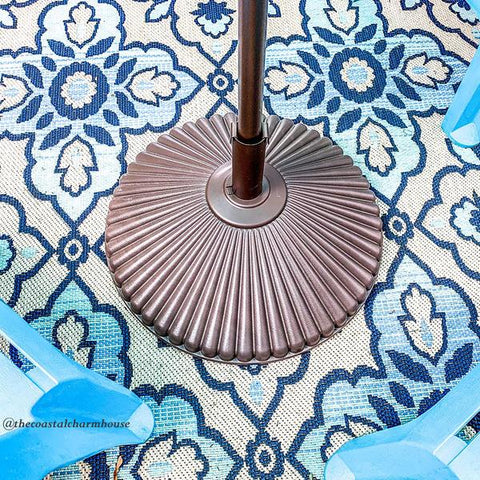 3. Buy an Umbrella with an Air Vent
If you live in a particularly windy climate it may be best to purchase your umbrella that comes with an air vent. This will allow your umbrella to relieve wind pressure at the top of the umbrella. This helps regulate the air.
4. Get a Durable Table
A table is the key to a strong table. This is extremely important for smaller umbrellas that cover your patio table. Having a durable table will keep your umbrella grounded. If your table is moving during windy weather then it is important to get a strong base for your umbrella to add stability.
5. Add to the Base
Add sandbags or rocks to your umbrella in order to weigh down the base. This will help keep your umbrella grounded. Make sure your add weight all over the base so it isn't heavy on only one side. Balance is incredibly important to keep your umbrella standing straight and tall all season long.
Adding more support to your umbrella will help keep the structure from toppling over. Enjoy your backyard without all of the frustrations that go with fighting with your patio set. Set up your umbrella correctly to stand the test of time and be able to enjoy your product season after season.