Now that spring is here it's good to remember that caports are still important to keep your car safe. From all sorts of weather, even the sun, carports are made to keep your car safe. There are other uses for carports as well.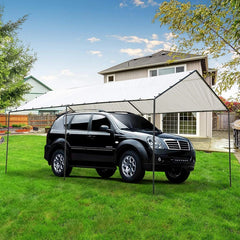 While they are great to keep your car in shade they also work well as large canopies. Have a family gathering? A graduation party? Or just like to have a shaded spot in your backyard? Carports are sturdy and spacious so that your backyard is exactly how you want it. The pools take up minimal space so that you can decorate your patio or yard any way you want with still getting some much needed shade.
Abba Patio also has many different sizes of carport, huge enough to cover an SUV or truck or small enough to use as a shed and cover a bike. Some have walls and doors so that it can be enclosed or open. Get an Abba Patio carport that works for you now!