You might think that the savings are over but Abba Patio has decided to push Cyber monday to Cyber week! So don't miss out on an extra 25% off on selected items! It's the perfect time to really save for that perfect patio.
Items like this side table are huge saves. Starting at $129.99 but now is $79.99 not even including the 25% off if you use the code: CYBER25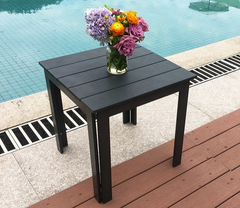 Getting a side table that is made to be outside is a challenge in its own. One that is weather resistant, or matches the style of your patio is hard, let alone one that is affordable and doesn't cost an arm and a leg.
So for this short time get the perfect side table at a huge discount!
Other items like this Outdoor Propane Patio Heater are perfect for the coming winter! Getting a sale price of $412.99 then add on the extra 25%? You won't beat this deal. Don't wait till it's already freezing to prep your patio. Enjoy it year round with this heater. It really is perfect for keeping you and your guests warm and able to enjoy the outdoors.
Along with these two items there are many more that you can save big on so do not miss out and act fast! This sale ends at the end of the week and it has the best deals of the year.